The Bull City Soul web exhibit builds on the work of two projects that date back nearly ten years. In 2005, local record collector Jason Perlmutter launched the Carolina Soul History website to share his ongoing research on the rich history of soul, funk, and R&B music in North and South Carolina.
In 2010, Perlmutter teamed up with Carter Cue of the Durham County Library to launch the Bull City Soul Revival (BCSR). This initiative brought together community members and local musicians such as Jaisun McMillian, Victor Stone, and Johnny White and was awarded a generous grant from the North Carolina Humanities Council. The product was a series of musical performances, lectures, a video documentary, and a gallery exhibit on the soul music history of Durham. That exhibit, called Soul Souvenirs, was displayed at the Hayti Heritage Center of St. Joseph's Historic Foundation in the spring and summer of 2011. Perlmutter and historian Joshua Clark Davis wrote, researched, and curated the exhibit, and Lincoln Hancock designed the exhibit panels.
In 2014, the Durham County Library contracted the creators of Soul Souvenirs to develop this web exhibit based on the gallery exhibit.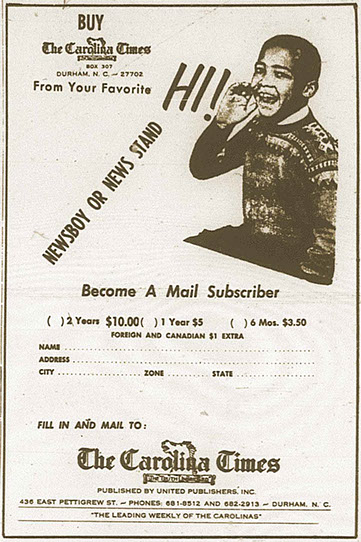 about
credits
thank you
The gallery and web exhibit were made possible by information, artifacts, and music from: Venita and Larry "Nick" Allen, Charles Bailey, Stanley Baird, Eli Brown, Terry Bullock, Clarke Egerton, Jr., Representative Yvonne Lewis Holley, Gary Kueber (opendurham.org), Vernelle Mack, Pierce McKoy, North Carolina Collection of the Durham County Library, Numero Group, Carolyn Satterfield, Jean Scurlock, Holly Smith, Victor Stone, and Johnny White. Special thanks to Kenneth Edmonds, owner and operator of

The Carolina Times
.

Since 1927,

The Carolina Times

has served as Durham's premier African American newspaper. For many years, while white-owned media showed little interest in African American music,

The Carolina Times

was the ultimate chronicler of Durham's African American music scene. The curators and designers of the Bull City Soul web exhibit wish to thank

The Carolina Times,

and especially Mr. Edmonds, for the kind and generous permission to reproduce and share so many photographs and articles from the newspaper's pages.
a very special thank you image credits
The Carolina Times
Blue Steam photograph, Duracha photograph, Tracy and the Jammers photograph, John Snells photograph, Blue Steam article, Modulations on
Soul Train

article, John Snells article, Baby Grand advertisement, Dr. Joseph T. Mitchell photograph, Clarke Egerton, Jr. photograph, White Rock Baptist Church choir photograph, Duplex National Record Pool advertisement, WAFR advertisements, Your Own Thing Theater advertisement, Motown Records advertisement, Bimbe '76 advertisement, W.S.R.C. Radio advertisement, Ervin L. Hester Domino advertisement, WSSB advertisements, "Durham's Own the Modulations"

Soul Train

advertisement, Your Own Thing Theater photograph, Snoopy's advertisement, Stallion Club advertisement,

The Carolina Times

advertisement
Collection of Jason Perlmutter:
All scans of records and album covers, Communicators photograph, Modulations photograph, Skull and Bones photograph, Larry Scurlock and U.S. Welfare Band photograph, Wheels of Steel Night flyer, Steve Satterfield drawing, Steve Satterfield photograph, Little Nick Allen photograph, Stallion Club napkin, Rhythms advertisement, NCCU photographs, Four Fellows photograph, Shirley Caesar photograph, Jimmy Liggins photograph,
WSRC Super Soul Survey

issue
The North Carolina Collection of the Durham County Library
Record Bar/Church Street photograph, Pettigrew Street photograph, Stallion Club façade
Collection of Charles Bailey
Black Experience Band photograph, Transit photograph
Collection of Venita and Nick Allen, Jr.
Famous Interns photograph
Collection of Representative Yvonne Lewis Holley
J.D. Lewis photograph,
Teenage Frolics

dance show photograph
Collection of Clarke Egerton, Jr.
Philmore "Shorty" Hall photograph, Hillside Joymakers Dance Orchestra flyer
Collection of Joshua Clark Davis
Norfley Whitted photograph, Clyde McPhatter stamp, Pigmeat Markham poster, "All-Negro Radio Station Opened in Durham, North Carolina" article
Collection of Victor Stone
Risse Band photograph, Shamrocks photograph
Collection of Johnny White
Johnny White at the Stallion Club, Johnny White promotional photograph, Dynamic Crusaders photograph, Johnny White and the Elite Band photograph